There's a lot to report in this final newsletter of 2022. You can recap the Academy's Annual Events, held in Melbourne and online in late November. This was a wonderful opportunity to reconnect in person for the first time in several years, to discuss the many aspects of democracy, to announce the new Rechnitz Fund that will support Aboriginal and Torres Strait Islander social scientists, celebrate our Paul Bourke award winners and to welcome our outstanding new Fellows.

Save the date for next year's Symposium, 'Digital society: Linked in or locked out?', to be held 23-24 November 2023 in Canberra.

Beyond that, Academy Fellows and staff have been working hard on the ARC review (submission here), as well the Universities Accord, the Migration System review, and the Qld Youth Strategy.

Looking ahead, in 2023 we'll commence the Academy's new Strategic Plan, with exciting new initiatives focused on school education and on promoting social science study and career pathways, among others. We look forward to working closely with Fellows and other stakeholders as we continue the Academy's work to recognise and champion excellence in social science.

On behalf of the Academy's Executive Committee and staff, we wish all our Fellows and readers a safe and restful Christmas and New Year.

Chris Hatherly, CEO
New Academy Fellows 2022
In October, the Academy welcomed 34 new Fellows from across the social sciences including Indigenous Fellows Tom Calma, Bronwyn Fredericks, and Jakelin Troy along with specialists in diverse fields including autism, early childhood and the first chair of architecture and urban design to be appointed to the Academy. All new Fellows were invited to present a short summary of their work on Day 1 of the Academy's Annual Symposium and were warmly welcomed by Academy peers at a Fellows dinner held at University House Melbourne. Read the full list of 2022 Fellows elected and watch a short video introducing the new Fellows below.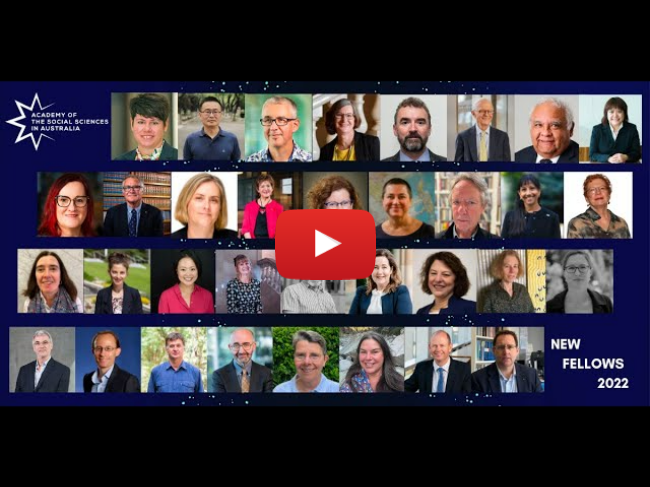 Democracy revived
After the disruption of the last few years, Fellows gathered for a stellar line-up of panels and robust debate as part of the Academy's 2022 Annual Symposium on the theme Democracy: Risk | Relevance | Revival.

Held on 28-29 November to coincide with the inaugural Congress of the Humanities, Arts and Social Sciences events at University of Melbourne, more than 100 people participated in the Academy's Symposium and related events including the Cunningham lecture—a moving and personal observation on democracy and Iran, presented by Fellow Elizabeth Reid AO—and the Fellows dinner.

Catch up on any sessions you might have missed over the break - recordings of our hybrid Symposium panels are now available to watch online.
Australian Universities Accord
The first comprehensive review of the nation's higher education system in 15 years commenced with the release of the Australia Universities Accord Terms of Reference. The first of several calls for submissions to this process, the Academy will prepare a targeted response outlining priorities for the social sciences. We encourage Fellows to also engage individually by completing the Department of Education's online survey before 19 December.
ARC funds social science via CoEs
Several Academy Fellows featured in the 2023 ARC Centres of Excellence (CoE) funding round, but did you know Fellow Jacqui True was the sole woman director of a centre funded in 2023? With a team including Fellows Heather Douglas and Sara Davies, the CoE will develop solutions to radically improve practice and policy across Australia and the Indo-Pacific. Read about other CoE firsts here.

Other Fellows named in this ARC CoE round are Bronwyn Fredericks, Larissa Behrendt and Sandra Eades (ARC Centre of Excellence for Indigenous Futures) and Lynette Russell (ARC Centre of Excellence for Indigenous and Environmental Histories and Futures). For the full list click here.
Academy Fellows: $11m Discovery grants
Twenty-eight Fellows of the Academy were also recognised in the prestigious Discovery grants, announced by the ARC on 24 November, 2022. Find more here.
Academy 2023 Workshops
The Academy is thrilled to announce eight 2023 Workshop grants. Hot topics for 2023 include emerging digital challenges, robotic futures and teenage vaping. This year's Workshop successes include convenors from ten universities and a higher than usual number of EMCRs. Learn more here.
In case you missed it
Speaking of workshops, significant recommendations from the 'Social Science Research Infrastructure' roundtable held earlier in 2022 are now available. As we put the recommendations into action and begin the Decadal plan for the social sciences, find the full report here.

Catch up on more Workshop outcomes with Professor Scott Eacott's 'Building education systems for equity and inclusion'; plus a just-released, free and downloadable collection—Designing Social Service Markets: Risk, Regulation and Rent-Seeking—arising from a 2018 Academy Workshop; and click here for 'Australia's data-enabled research future: the social sciences', a collaboration with ARDC, ACOLA and Australia's Five Learned Academies.
International opportunity
Apply to be a Visiting Professor of Australian Studies at the University of Tokyo. These 10-month appointments commence September 2023 and September 2024.

Applications close 1 February 2023. More information here.
Finally, best wishes from the whole team at the Academy to all of you, for a happy, relaxing, celebratory time over summer enjoyed with the people, places and rituals you love. Our office is closed from 23 December until Tuesday 3 January.
Podcasts
Listen to the latest Seriously Social episodes.
The Academy of the Social Sciences in Australia acknowledges Aboriginal and Torres Strait Islander peoples as the First Peoples of Australia.

We acknowledge and pay our respects to the traditional owners of the land on which our national office is located, the Ngunnawal people, and
to their elders past, present and future.
Click here to unsubscribe | Sent to: _t.e.s.t_@example.com

Academy of the Social Sciences in Australia, 26 Balmain Crescent, Acton ACT 2601, Australia