National Reconciliation Week is 27 May - 3 June 2021. It is an opportunity to recognise some significant achievements in the pursuit of reconciliation and equity for our Indigenous peoples. It is also a reminder of how far there is still to go. It is 30 years since the

Royal Commission into Aboriginal Deaths in Custody

, yet there are still appalling rates of incarceration and deaths. It is nearly 25 years since the report on the stolen generations "

Bringing Them Home

" and yet many of those recommendations have not yet been enacted. It was 2017 when the

Uluru Statement from the Heart

was published.

I am proud that the Academy is committed to advancing recognition of Indigenous knowledge and scholarship, and to promoting reconciliation. We have recently had our first Reflect

Reconciliation Action Plan

endorsed by Reconciliation Australia. I will be launching this plan in early June; it will also be available on the Academy's website once launched. This is the first formal step in the Academy's reconciliation journey.

Concurrently, we're pleased to be working with Fellows Maggie Walter, Marcia Langton, Fiona Stanley and Dennis Trewin in planning a roundtable meeting of key stakeholders to discuss development of a National Indigenous Data Strategy. This builds on Maggie's wonderful

Fay Gale

lecture on Indigenous Data Sovereignty last year and on the Academy's input into the development of national data availability and transparency legislation last year.

These are small steps in the face of the challenges. But they are ones in which we can all play a part.


Professor Jane Hall FASSA FAHMS, President
One of the world's largest social science and humanities events:


Online 27 May - 4 June 2021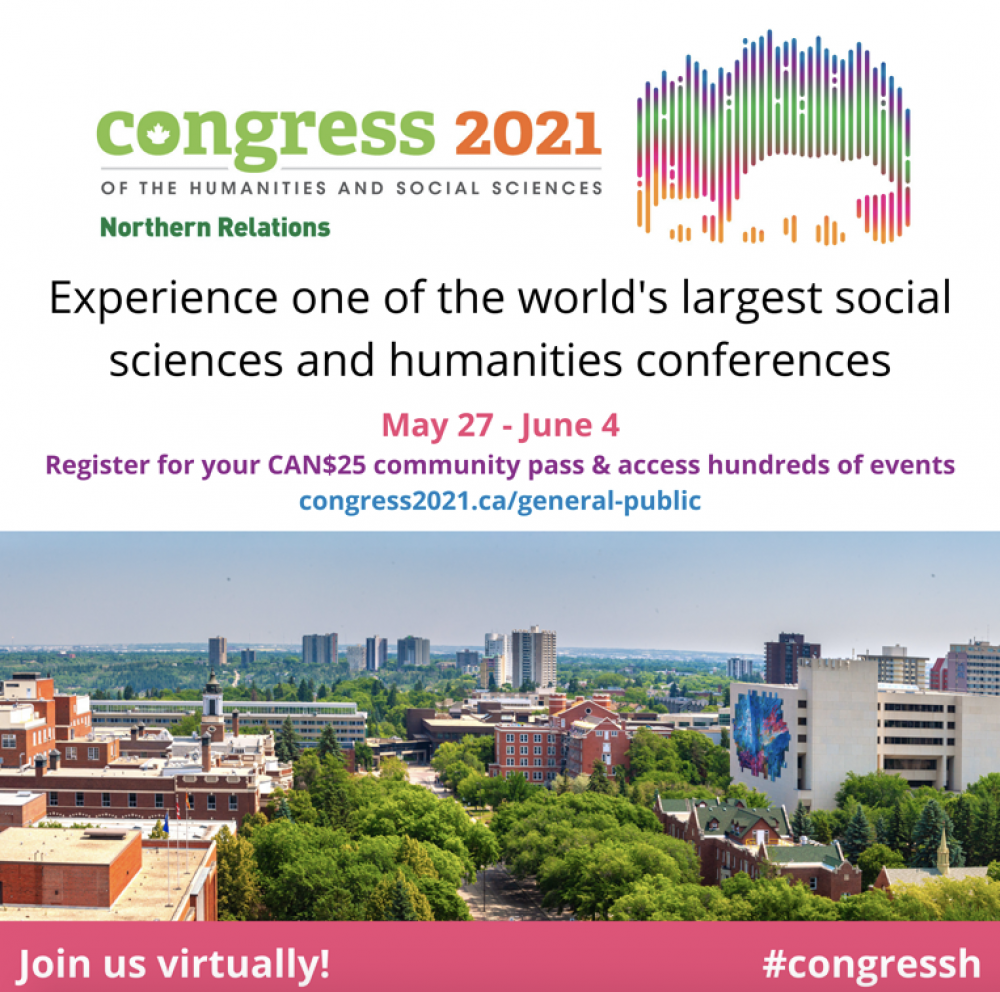 While Australians may still not be able to travel internationally, we're all getting much better at connecting online. From 27 May to 4 June 2021, Canada's

largest social sciences event

–one of the largest of its kind in the world–the

Congress of the Humanities and Social Sciences

is being held online for the first time.

And yes, you are all invited.

Thousands of researchers, practitioners, policymakers and others are expected to attend, where research papers and presentations from social sciences and humanities experts worldwide will be delivered on topics including Equity, Diversity, Inclusion, and Decolonization (EDID), sociology, environment, history, literature, education, philosophy, law, religion and everything in between. (So many topics! A quick glance from us spotted events on everything from multiculturalism through to how to publish and market your scholarly book.)

Organisers are promising attendees will experience the look and feel of being in the beautiful University of Alberta campus in person thanks to breakthrough conferencing technology. Access the full program of public events

here

.

Save the Date:
The Academy's firs
t
Reflect
Rec
onciliation Action Plan, endorsed by Reconciliation Australia, will be launched in early June. Follow our social media channels for updates
Does your organisation help teachers?



The biennial UNESCO-Hamdan Prize for Teacher Development is offered to three institutions whose projects aim at improving the performance and effectiveness of teachers worldwide. The US$300,000 prize money will be divided equally between three winners. Find out more

here

. (Deadline is 31 October but there's a nomination process to follow.)

The Association of Asian Social Science Research Councils

AASSREC

is an official nominating body for this prize. Candidates seeking nomination can contact

michelle.bruce@socialsciences.org.au

.



Do you know DASSH's next Executive Officer?



Know someone looking for a flexible role? Our friends at The Australasian Council of Deans of Arts, Social Sciences and Humanities (DASSH) are looking for a new Executive Officer. We're assured by the previous occupant of the position it's a great place to work.

More details here

(closes 9am 17 May).

Showing just how lucky we are here in Australia at the moment, Fellows in the Canberra and Adelaide have been busy reconnecting of dinner and conversation.

In the ACT, Fellows met at Daana restaurant on 28 April and heard from Fellow Frank Bongiorno on what Scott Morrison's Prime Ministership looks like in a historical context.

Frank discussed the ways in which Morrison's particular style diverges from the dominant prototypes for 'strong leadership' conventionally associated with the centre-right parties, in Australia and elsewhere. Frank discussed some recent published accounts, and placed Morrison's leadership – including during the pandemic – in the context of his own work on Australian political history.

In Adelaide, attendees at the first SA Fellows Dinner for 2021 enjoyed both the food at Vileroy restaurant and Professor Tracey Wade's talk. Tracy, an Academy Fellow and Director of the Órama Institute for Mental Health and Wellbeing at Flinders University spoke on 'Translating research into real-world settings. What can possibly go wrong?'

Tracey discussed her experiences in translating research on eating disorders into clinical settings around South Australia and in Australia. Instead of the so-called "three-legged stool" balancing evidence, clinical expertise and consumer preferences, she discussed the "four-legged chair" that recognises politics as the important fourth pillar.

Feel like a catch up with local Fellows? Keep an eye out for 50 year events coming to your state or territory soon.
Last month Academy Fellow Mike Humphreys passed away from pancreatic cancer.
Michael S. Humphreys is an American/Australian psychologist, best known for his work on human memory. Born in 1942 in California, USA, Humphreys began his academic career as assistant professor at The University of British Columbia and at Northwestern University, and was a researcher at the Chicago Institute of Learning Disabilities. In 1980, he settled in Brisbane, Queensland, Australia with his Australian wife and joined the academic staff in the School of Psychology at the University of Queensland. He became a professor (personal chair) in 1991. From 1994 to 1997, Humphreys was the Head of School of Psychology at the University of Queensland. From 1999 to 2004, he was the Director of the Key Centre for Human Factors and Applied Cognitive Psychology. In 2010, he retired to an Emeritus Professor post and has continued to be productive in collaborations, both empirical and theoretical.


From Academy Fellow Andrew Neal: Those of us that knew Mike will remember him as a deep thinker, with the ability to cut to the core of an issue quicker than anyone else in the room. He was active to the end, recently publishing the following paper, which draws on much of the work from across his career:
He was a giant of the field and will be missed.
Academy Fellow Adjunct Professor Amin Saikal's piece in the Sydney Morning Herald,
'Little to show for allied involvement in Afghanistan'
.
Academy Fellow Emeritus Professor Michael Quinlan, School of Management and Governance, submitted his research for a
Draft Workplace Health and Safety Guide for Food Delivery Workers
. The Food Delivery Industry, including firms like Uber and Hungry Panda, has been the subject of media attention and concern following several food delivery worker deaths. Professor Quinlan argued the draft Guide must go much further if it is to affect mitigating hazards and the problems posed by the growing 'gig' economy.
LISTEN:

Forecasting the future - the science of prediction
What's involved in forecasting the Federal Budget, COVID-19 daily case numbers, or Australia's electricity needs?
Join expert and Academy Fellow Professor Rob Hyndman as he explains the science of prediction on our latest Seriously Social podcast. This

episode

also features guests Jehan Ratnatunga (

Who Gives A Crap

) and leading economist

Stephen Koukoulas

.

The Academy's Acknowledgement of Country video, featuring some wonderful Indigenous and non-Indigenous Fellows. The video was produced by Supply Nation Certified Wolf Lab in Canberra and has been screened at events all around Australia, both in-person and digital.
Wish more people understood the social sciences? Introduce them to

Seriously Social

.
Academy of the Social Sciences in Australia




ABN: 59 957 839 703




Location: 26 Balmain Crescent, Acton, ACT 2601




Postal: GPO Box 1956, Canberra, ACT 2601




Tel: (02) 6249 1788

info@socialsciences.org.au


www.socialsciences.org.au

| | | | | | | | | | | |
| --- | --- | --- | --- | --- | --- | --- | --- | --- | --- | --- |
| |   | |   | |   | |   | |   | |
You've received this email because you're one of our subscribers.
Academy of the Social Sciences in Australia, 26 Balmain Crescent, Acton ACT 2601, Australia |
Unsubscribe